Summer Heat and Stale Beer: A Mini Case Study
Posted onMarch 30, 2021
When Summer months get hot and muggy, keeping your beer cool isn't just a problem for the BBQ warrior on their back porch. Beer manufacturers know how difficult it is to get that beer to their customer's cooler tasting just as good as it did when it left the brewery.
Higher than normal temperatures for an extended period of time -such as several days on the road in summer heat -can affect a beer's flavor by speeding up the oxidation process that leads to "stale" cardboard flavors. Heat causes the beer to lose "hoppiness" overall while pine, citrus, and floral hop aromas are particularly impaired.
Our beer manufacturing clients describe dry van transportation as a significant risk for their products during the summer months. Here's a scenario one of our customers described when shipping 2 day OTR in June:
Beer was leaving the manufacturing facility in Colorado at 40-50 degrees Fahrenheit.

It was arriving at the distributor in Texas at temperatures as high as 100 degrees.
Not only was the product at risk of quality degradation, the distributor receiving the warm beer had to chill it back down before they could send it on. This wasted time and increased their energy expenses. The brewery evaluated shipping in climate-controlled trucks, but this added significant expense and reefers are also difficult to get during the hot season.
The Thermal Blanket Alternative
After evaluating the client's routes and their products' acceptable temperature range, we recommended our Astro-Cooler Blanket, a cost-effective and energy-efficient alternative to refrigerated trucks. The AC Blanket normally keeps the air temperature under the blanket 25 degrees cooler than the ambient air temperature above the blanket. The actual temperature of the beer changes more slowly than the air, further mitigating the impact of summer travel.
This chart shows the results: 
Product starting temperature was 45°F

Highest ambient temperature was 104°F

Highest air temperature under Astro-Cooler Blanket was 70°F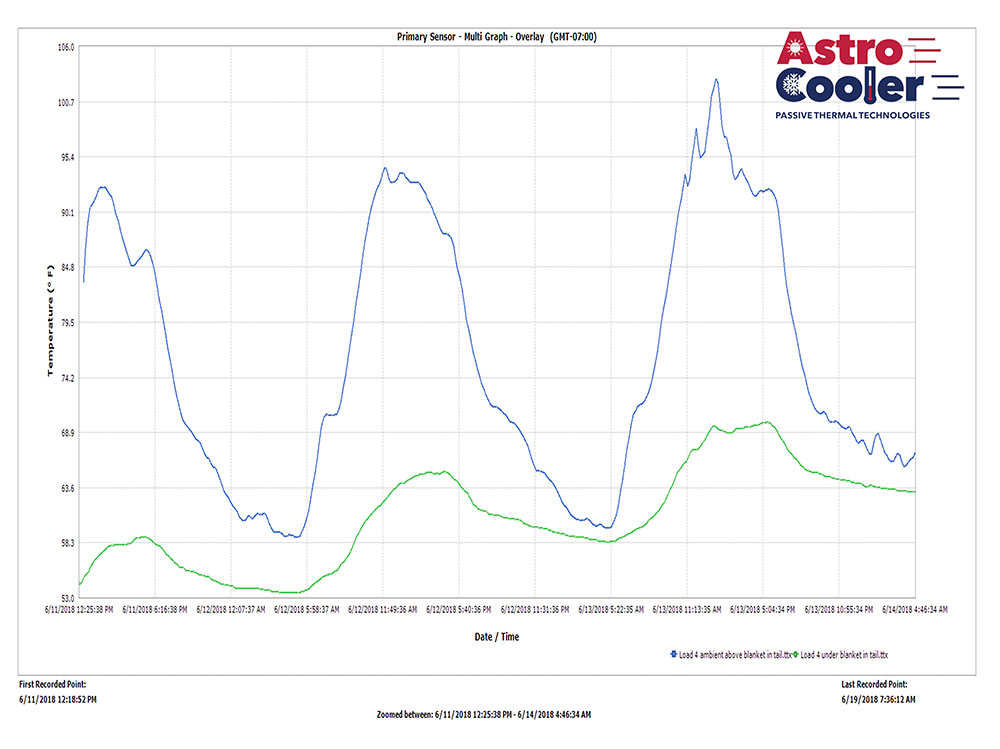 In addition to a total cost of under $100 per load, including delivery and the installation labor, the Astro-Cooler Blanket is lightweight and easy to install. This option provided our customer with a solution that kept incremental costs low. They also reduced the overall energy consumption of the shipment by avoiding refrigerated trucks and having to re-chill the beer, a beneficial Green side-effect.
Our customers include both industry giants and craft breweries. If you would like to learn more about how our thermal blanket products can protect your beer and your bottom line, Contact Us today.