Save Money And the Environment
Posted onJune 28, 2021
If you ship products nationally, you are certainly aware that intermodal and dry shipping is less expensive when compared to temperature controlled trucks. But you might not have considered that intermodal rail shipments also reduce your carbon footprint. The Association of American Railroads (AAR) reports that:
Freight railroads are 3-4 times more fuel efficient than trucks, on average, and can move move one ton of freight more than 480 miles per single gallon of fuel.
Moving freight by train instead of truck produces approximately 75% less greenhouse gas emissions.
Railroads move 40% of U.S. freight but produce only 1.9% of U.S. transport related greenhouse gas emissions.1
There are challenges to intermodal shipping, however. Multiple stops through varying weather conditions can be an obstacle for products that are temperature sensitive. A layover in Chicago in the winter definitely increases the risk that a product will encounter freezing temperatures during its journey, for example.
Fortunately, there is an alternative to reefers during seasonal extremes. The Astro-Cooler Blanket is a low cost passive thermal protection system that maintains heat mass under the blanket in the winter and keeps products cool in the summer. Companies such as Del-Monte Foods and Group TYT use our AC blankets to reduce the risk of temperature damage and many of our clients are able to make use of intermodal shipping all year long.
This chart shows the temperatures recorded over a 7 day transit of liquid fertilizer. Under the AC Blanket, the product was exposed to freezing temperatures for, at most, a couple of hours compared to more than 2 days of continuous, below-freezing temperatures in the container outside the blanket.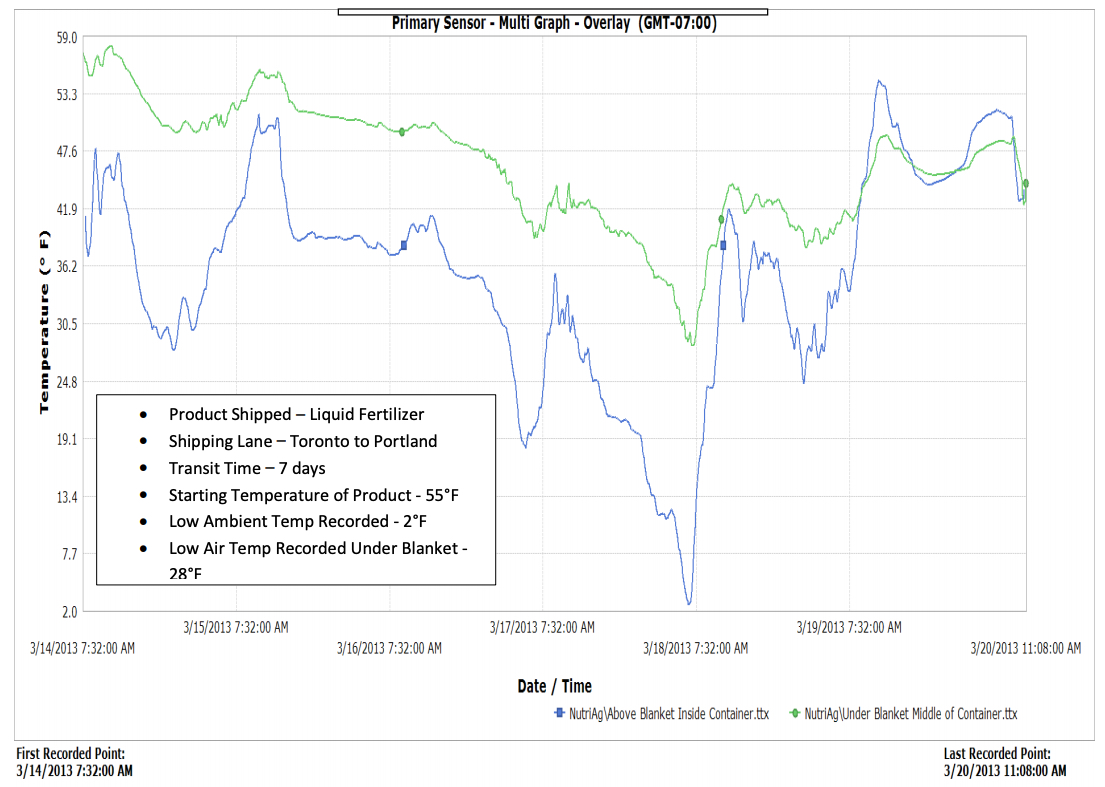 The EPA reports that the transportation sector is responsible for over 50% of Nitrogen oxides emissions in the U.S. and heavy-duty trucks are the fastest-growing contributor to all emissions.2 According to the AAR, if, instead, 25% of truck traffic moving 750 miles or more switched to rail, annual greenhouse gas emissions would fall by around 13.1 million tons.1
Utilizing Astro-Cooler's passive thermal solutions for intermodal shipping options offers cost savings and additional capacity for the client, and a reduced carbon footprint for the environment. It's win-win. Contact us if you would like to learn more about how the AC Blanket can help you take advantage of intermodal shipping year round.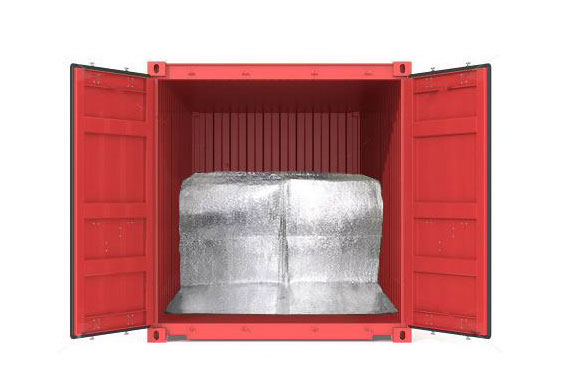 1Freight Rail & Preserving the Environment. AAR-Sustainability-Fact-Sheet.pdf
2Why Freight Matters to Supply Chain Sustainability - United States Environmental Protection Agency