Cost-Effective Transport of Temperature Sensitive Chemical Products
Posted onJuly 26, 2021
When consumers pull out their bottle of glass cleaner, or twist the cap off a tube of glue, they probably don't consider these powerful cleaning and adhesive chemicals to be delicate substances. But manufacturers of many household chemical products know that sustained exposure to heat or cold can irreparably damage both the product and the packaging:
Freezing destroys both a latex and oil-based paint's emulsion, making the product lumpy. Extended heat can cause water in the formula to evaporate and separate.
Stains can become gritty and develop a "cottage cheese" texture after freezing, and even formulations that protect against accidental freezes will degrade under multiple freeze-thaw cycles.
Freezing also destroys the chemical bonds in water-based cleaning products and these will not re-form when the product warms. Even if a product is not destroyed, it is likely that it will not work as effectively after freezing.
Beauty products can experience changes in consistency due to heat, such as mushy lipstick or thickened lotions.
And not only the contents can be affected. Condensation caused by freezing and re-warming can damage packaging labels. Pump dispensers might not be able to handle thickened gels. In extreme cases, packaging can fail and leak the contents of the product.
Getting chemical products to consumers without heat or freeze damage requires planning and deliberation. Whether the product ships in a full truckload or as LTL, temperature mitigation is often needed. Many companies use a climate-controlled trucking option, which can be expensive, especially when capacity is limited during the peak hot and cold months.
As an alternative, Astro-Cooler Products offer individual pallet covers and full truckload blankets as a passive thermal protection alternative to reefers. Our products create a temperature variance of approximately 25 degrees F between the air temperature in the shipping container and the air temperature underneath our product.
Shipments are protected from both hot and cold extremes and the manufacturer can use a dry van, year-round in many cases.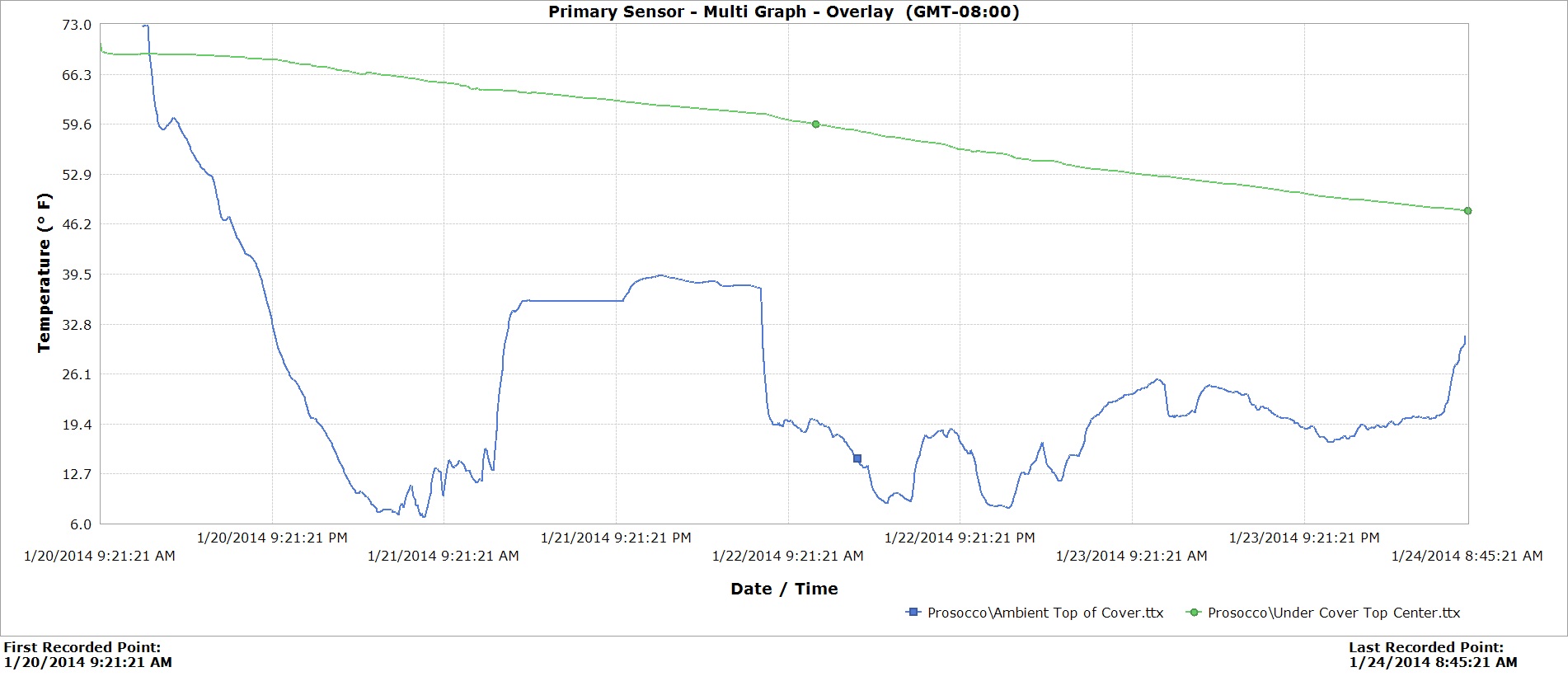 Graph shows temperatures experienced by a chemical cleaning product under Astro-Cooler blanket during an 8 day transport.
Astro-Cooler passive thermal solutions are a flexible, cost effective and green alternative to climate-controlled trucks for temperature sensitive chemical products.