Reduce Product Damage Risk With Astro-Assure
Posted onMarch 23, 2021
Protecting shipments from extreme temperature fluctuations during transit is vital to maintaining the product quality that your customers expect. And while shipping dry intermodal is economical, it can be risky during the cold season when winter storms emerge and during the hot season when local temperatures vary widely.
We created the Astro-Assure Intermodal Website to help our customers plan shipments and anticipate weather challenges. With the tool, you can see the forecast along your route and more confidently take advantage of dry intermodal during seasonal extremes.
For best results, gather the following information:
Starting temperature of the product

Acceptable temperature range of the product

Expected Route

Estimated number of days in transit
Astro-Assure will show you High and Low temperatures forecast for the approximate daily locations your shipment will be passing through, each day of your route. It will also provide warnings when the forecast predicts extreme temperatures.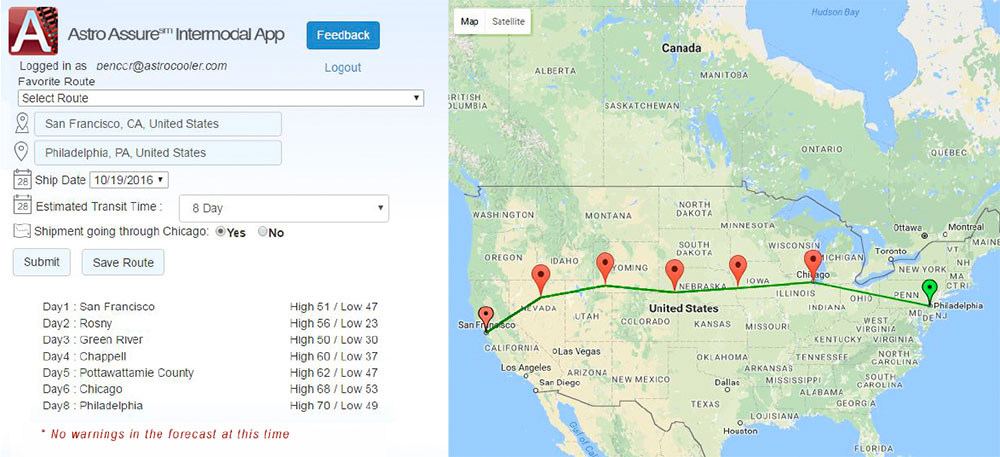 With this information, you can quickly see the expected temperature fluctuations over the course of the route, choose the correct thermal protection solution, and confirm that temperatures will stay within your shipment's acceptable range. You'll also know when passive thermal protection is not recommended and can plan accordingly.
If you would like to learn more about Astro-Assure, please contact us. We work with all of our clients to identify the best Passive Thermal Protection product for their routes in every season.
Tel: 916-381-3325 / Toll free: 800-442-3645 Email: info@astrocooler.com